A little history on Ruby's parents-
FC AFC FTCH AFTCH OTCH. TNT's Explosion AM. UD, FD
Fly's Sire ~ The ONLY Golden in History to hold AFC FC's in USA & Canada!!!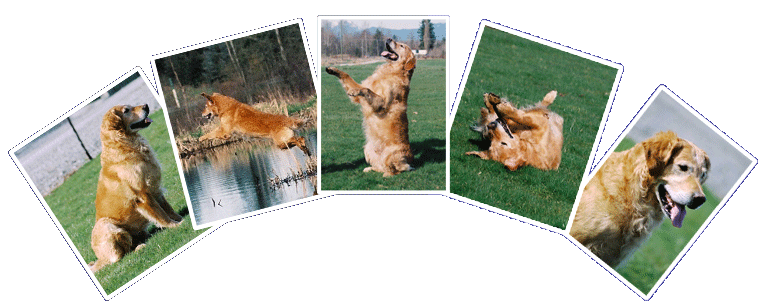 FC AFC FTCH AFTCH Cdn OTCH
TNT's Explosion, FDHF, OHF, Am UD, FDHF OS
Wraith's Duncan MH***, OS X Mo's Fartogo Speedy Peech JH***, OD

-BOOMER's Accomplishments-
#1 Open & Amateur Golden in the USA - 2003 & 2004

#1 Open & Amateur Golden in the USA & Canada 2003

Qualified for the 2004 US Amateur National

the only Golden on Purnia Outstanding Retriever List 2003

Member of the Field Dog Hall of Fame

Member of the Obedience Dog Hall of Fame

The only FC AFC FTCH AFTCH OTCH Golden EVER

Multi-High In Trial obedience awards boasting scores of 199 in both Canada and the US

100% Amateur trained and trialed has 2 Amateur US WINS in 2004 alone, one with Janice & one with John handling.

Has 90 combined US/Cdn All-Age Points

Outstanding Sire Status

2003 & 2004 winner of the GRCA year end awards - Gilnockie Challenge Cup, Granat Brothers Trophy, and the Tigathoe Memorial Trophy
Regrettably after 15 wonderful years of life Boomer has passed away.... Please read his eulogy below


FTCH AFTCH FC AFC Cdn OTCH TNT's Explosion, UD, WCX, OS OHF, FDHF
US Amatuer National Finalist
"Boomer"
October 20, 1995 - May 24, 2010
age 15

Boomer will be remembered as one of the all time great Golden Retrievers whom made new history for the breed by earning field trial championship titles on both sides of the border. A fierce competitior amongst a world of Labrador Retrievers, Boomer held his own. When we went to line together to run a water blind, you always knew he would do his famous water launch and attack the blind with vigor.

Boomer also graced the world of competititon obedience earning his UD title in Canada and the US with top scores reaching 199.5 He earned 25 OTCH points with little effort, but I had other dogs to train and trial in obedience and with working a full time job, I did not have the time to travel to chase down the OTCH title. Boomer loved other dogs, and his favorite thing on group stays was to swish his tail back and forth, and wink his eye at the dog next to him, hoping they would come over for a visit. Of course he worked the ladies extra hard, and only once did a cute little Labrador bitch fall for his advances.

Boomer's favorite hobby in his spare time was swimming. He would swim over
walking any chance he could get. If we were headed down a trail with the dogs, you could be sure that Boomer was swimming in the creek or river following us. He would play in the water, alternating his two front legs, making the water splash and bubble, and then he would bark at the bubbles and splashes and catch them in his mouth. If he wasn't busy doing that, then he would be practicing his water launching techniques that he would show off at the field trials. He loved the water, and he created his own water fantasy world.

Boomer has a countless number of progency that are and will carry on his name for a long time to come. He has sired FTCH, AFTCH, MH, OTCH, 200 and MACH goldens. Boomer was a kind, sweet, loving, and affectionate dog. He adored all people and all dogs, and sometimes, the golden ladies he adored just a little to much! During all of his 15 years in our pack of dogs, there was never a day go by, or a new puppy arrive that didn't understand immediately that Boomer was the Lion King of our household. I'm not sure how he accomplished this, as it was never by aggression, but he was always respected by all our dogs and ensured there was peace and harmony in the pack.

We just arrived home on Monday from a 2 week road trip thru Oregon and Spokane. Boomer of course was along for the trip. He enjoyed numerous walks thru-out the day and it wasn't until we were headed for home, that he went off his food. Once we arrived home he simply said, I'm tired, it's time for me to go. It is amazing how he waited until he was back home to let go. His 15 year old body carried him beautifully thru-out the years. Never a day lame, and rarely ever a trip to the vet. He was sound and healthy all his life.

Seven months ago his pancreas acted up, and that caused diabetes. Thank you to Boomer's vet, Dr. Rick Douglas for caring and monitoring Boomer. He stablized him so he could continue to enjoy his last 7 months of life.

I want to thank Jim & Kathy Pickering for breeding this magnificent dog.
I know we made you proud!

And to Boomer, John and I miss you dearly. You were the first dog we owned and trained together. You gave us so much enjoyment and success and we are forever grateful you were apart of our lives. We could of missed the pain, but we would of had to of missed the dance.
Love you always,
J & J

AFC FTCH AFTCH OTCH. TNT's Explosion AM. UD, FDHF, OHF
Pedigree
Parents
Grandparents
Great-Grandparents
Great-Great-Grandparents
Wraith's Duncan MH***(OS)

NAFC-FC Topbrass Cotton ( OS/FDHF )
AFC Holway Barty ( OS )
Eng.FTCH Holway Westhyde Zeus
Eng.FTCH Holway Flush of Yeo
CH. Sunstream Gypsy of Topbrass
FC-AFC Tigathoe's Kiowa II
Am.Can.Ch. Topbrass Topeka of Sunstream (OD) CD.WC.
Emberain Lady Nell CD*** ( OD )
AFC Yankee's Smoke'N Red Devil ( OS )
FC-AFC Northbreak Kinike Sir Jim (OS/FDHF)
Yankee Fluff ***
Splashdown Emberain Aubrey UD. MH ***
FC-AFC Tigathoe's Kiowa II (OS/FDHF)
Spindrif's Mississippi Wind WC (OS)
Mo's Fartogo Speedy Peach JH***WCX
FC-AFC Windbreakers Mighty Mo ( OS/FDHF )
AFC Yankee's Smoke'N Red Devil (OS)
FC-AFC Northbreak Kiniki Sir Jim (OS/FDHF)
YankeeFluff ***
FC Windbreaker Razzmatazz
FAC Holway Barty (OS)
Nutmeg's Harvest Gold Heather ***
HR CH.Wasatch's Desert Jasmine MH ( OD )
FC-AFC Tangelo's Side Kick (OS/FDHF)
Sungold Sand Kicker ***
Troymar Shasta Spring WCX
Windbreakers Desert Dust ***
AFC Yankee's Smoke'N Red Devil (OS)
FC Windbreakers Razzmatazz (OD)
| | |
| --- | --- |
| FC AFC FTCH AFTCH Can. OTCH TNT's Explosion Am. UD, FDHF, Cdn FDHF, OHF | |
Ruby's Dam
Real Gold Wraith Hi-Ki Diva, AAQ, Ruby's Dam
8 - Derby Pt, AA Qual. at 2.5 yrs, Am 4th+Jams
Real Gold Wraith Hi-Ki Diva, AAQ
AKC SN89201502
OFA GR-82506G26F-PI
CERF GR-30420/2006-58
Heart OFA GR-CA10089/46F/C-PI
Elbow OFA GR-EL9157F26-PI
Diva earned 8 derby points and became all age Qualified at 2.5 years old. She has 3 Qualifying 2nd a 1st before she took 4th place in Amateur last year. JAMs in Amateur.