Cary is sired by "Jamie" FC-AFC Teddy's Ebonstar James
Some of Jamie's Accomplishments-
FC-AFC Teddy's Ebonstar James
-------------------------------------
*2001 National Amateur Finalist
*2002 National Amateur Finalist
*AFC Before 3rd Birthday
*FC As A 3 Year Old
*Youngest Dog 2000 National Am
*Qualified For 5 Nationals As A 5 Year Old
*Qualified For 2003 National Am
*Currently Has 68 All-Age Points 1
*Acquired 27 All-Age Points In 2001
*OFA LR-100072E24M CERF LR-25518/02
*Qual Win At 20 Months Of Age
*13 Derby Points (12 Starts)
*Currently has three offspring that have made the National Derby list [Grey Dawns Pandora (10 pts.), Delta's Longshot Lefty (15 pts.) and Who's Your Daddy (10 pts, with 2 wins in three starts)], with several others placing in Derby and running successfully in Hunt Tests
Jamie's Pedigree
FC-AFC Teddy's
Ebonstar James
DOB 8-23-97
OFA LR-100072E
CERF LR-25518

NAFC-FC-CNAFC Ebonstar Lean Mac

CNFC-CNAFC Waldorf's High Tech

CFC Rascal's Super Spud

Itch's Flying Tiger ***

Ebonaceae Princess WCX

Trieven El Conquistador (CAN)***

Skookum's Sky Radar (CAN)***

HRCH Southills U-Gotta-B Kiddin MH

FC-AFC Riparian Roughrider

FC-AFC-CFC Sandy's Slew Man Too

FC-AFC Del's-Hi-Kasie (CAN)

HRCH Candlewood Blackgold Brooke MH

FC-AFC Candlewoods M D Houston

FC Candlewood Wildernes Brook MH
~Cary's Dam~
"Zoie"
HRCH Cropper's Waterfowl Zoie D
NAFC FC MD's Cotton Pick'n Cropper
X
UH HRCH Millercreek Waterfowl Indy MH

NAFC-FC-CNAFC
EBONSTAR LEAN MAC
Jamie's Sire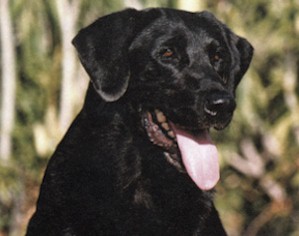 (CNFC-CNAFC Waldorf's High Tech x Ebonaceae Princess, WCX)
Qualified for a combined total of 23 Nationals

Finalist in 11 Nationals, including the last 7 in a row that he ran

2X Double Header Winner

122.5 Derby Points Total (35 U.S./88.5 Canadian)

HIGHEST COMBINED DERBY POINTS IN HISTORY

Sire of 35 offspring qualified for the U.S. Nationals

Sire of a total of 27 dogs on the Current Derby List--Top 10 and total for the Entire List
NAFC FC MD's Cotton Pick'n Cropper
Zoie's Sire
NAFC FC MD's Cotton Pick'n Cropper
"Cropper"
1993 NAFC-FC M.D.'s Cotton Pick'n Cropper
Yellow Labrador Male / DOB: June 3, 1989
FC-AFC Candlewood's M. D. Houston
X
Krugerrand's Honey Bee
~Accomplishments~
33 Derby Points
Won his first and only Qualifying at 21 months
FC & AFC at 3 years of Age
Qualified for 11 Nationals
Won the 93 National Amateur in Minnesota
First Yellow to win the National Amateur
Youngest dog to win the National since 1961
6 Series - '92 National Open
9 Series - '93 National Open
Finalist - '96 National Open
Finalist - '96 Amateur National
Qualified for '97 Open National
Only Yellow dog to finish both Nationals in '96
"Cropper" is totally amateur trained by Newt Cropper
Over 130 All Age Points
Cropper has produced many fine sons and daughters. Several have been on the derby list (Field Trail News, December 95, page 31), some are running the Qualifying Stakes, the All Age Stakes, and Hunt Tests.
Grand sire and great grand sire are the first 2
The 3rd dog is a half brother to "Cropper"